VIKING CLUB
2022/10/24
.
This particular and interesting "club" that provides to the selected group of J craft owners not only with the boats also with  several types of activities and scheduled voyages, technical assistance and solutions everywhere to enjoy sailing at maximum.Normally They have regularly undertaken long trips, in the South China Sea from Hong Kong to Hainan, in the Baltic Sea between Gotland and Stockholm, and in the Med where they frequently cruise from St. Tropez to Ibiza or Sardinia and back. Among the selected members of "J craft club " is the king of Sweden.
The J craft owners demand excellence. They value simplicity. They know the feel of perfection and it is not just about looking good, it's about being genuine. They appreciate the craftsmanship poured into every build, the mahogany finish, the bespoke details created just for them.
To our owners quality must be inherent; style must have substance. It is about living in the moment, it's about arriving in style…no matter where they go.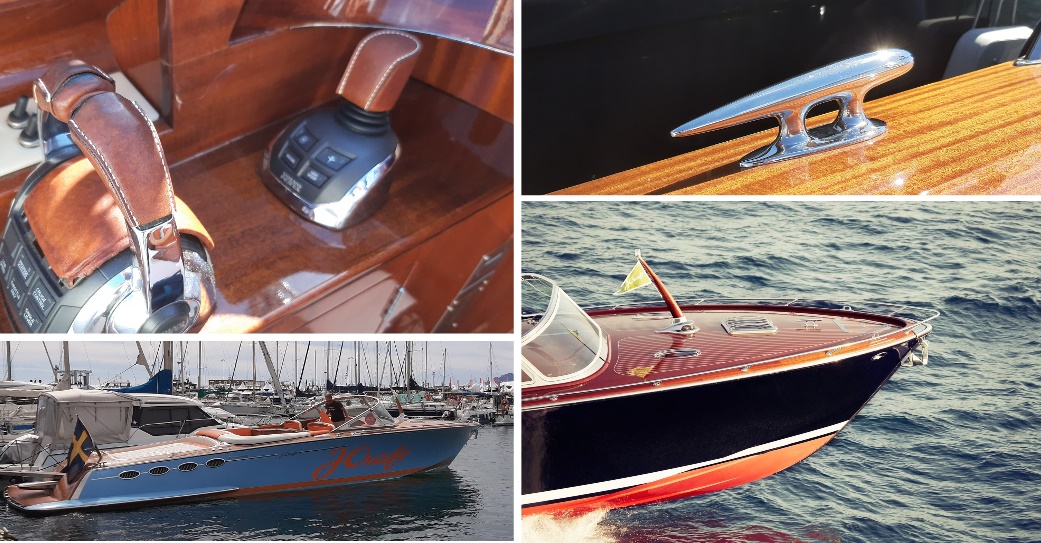 The essence of boating is the pursuit of passion. As with all matters of the heart, this extraordinary pursuit is uniquely individual and forms the core of the J Craft DNA. Seamlessly blending cutting edge technology with timeless styling, each J Craft empowers the individual to live in the moment and experience pure boating pleasure.
J Craft embodies a love for life and an appreciation of the importance of following one's passions. Designed for discerning individuals, each J Craft is an extension of a distinctive lifestyle, where substance and style are uncompromised.

J Craft was born from a passion for classic styling and boat building heritage. The first J Craft, the Cabrio Cruiser, was built in Gotland in 1999. Since then, innovation and experimentation have served to define each custom J Craft build.
Hull #1, Polaris, was delivered to the new owner, His Majesty Carl XVl Gustaf, King of Sweden, in August of that same year. striking 1950s and '60s retro vintage-style boat, the Cabrio Cruiser was distinguished by classic design, beautiful materials, exquisite engineering, and state-of-the-art, thoroughly modern technology. Polaris was built around a modern fiberglass hull with mahogany veneer, powered by Yanmar engines with straight shaft propulsion. Based near St. Tropez, Polaris is still being used 20-plus years later and remains the King's favorite boat for Mediterranean cruises.
In 2009, J Craft pushed the boundaries of motor cruiser hull design and introduced the 42-foot Torpedo, equipped with the cutting edge Volvo IPS pod drive system. J Craft Torpedos are equipped with the latest generation Volvo Penta IPS engines Now in its 23rd year, J Craft continues to design and hand-craft exquisite bespoke cruisers that further the passion for the ultimate classic boating experience. The yachts combine classic style and glamour with cutting edge technology, power and contemporary convenience: a finely balanced blend of classic and new, where form and function are of equal importance.
Join us for the beautiful journey and experience a little of la Dolce Vita!
The Torpedo is built on the founding principles of passion and grace, marrying beautiful materials, exquisitely engineered details, distinctive design and discreet state-of-the-art technology. Combined with exhilarating performance, the Torpedo elicits an emotional response, whether enjoying relaxation at anchor or scything through waves at close to 50 knots.